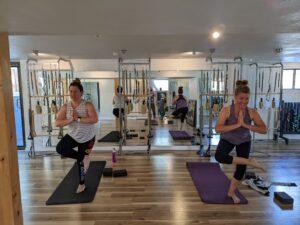 Did you know that there are thousands of different types of yoga disciplines? The one thing they all have in common is is they derive from the subtle teachings of "togetherness." This can refer to the togetherness of your mind and body. Or building a togetherness with like-minded people practicing together. One thing that I find amazing with yoga is how adaptable it is. It is not a one size fits all type of thing. You can adjust or modify any poses in order to make them work for your body and there are so many different yoga styles, you are bound to find one that fits your lifestyle. Yoga truly is a great workout for everybody, it does not depend on age, gender, or athletic abilities.
Here are my top three reasons why you should try out a yoga class.
Promotes a sense of relaxation and calm
Does anyone else seem like we are always go go go? Let's be real, life is busy, and just when you think it might slow down things get more stressful. Yoga is a great way to take a step back, tune into your body and reduce stress and anxiety. With a big focus on breathwork, you are able to leave your stress at the door and focus on breathing.
Wellness benefits for mind and body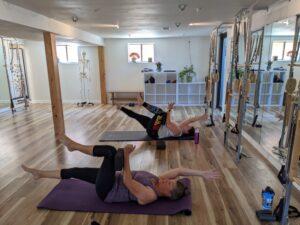 Not only is yoga a great workout for your body, but it is also a chance to clear your mind. Making your main focus on your breath takes your mind off other things and gives you a chance to mentally unwind. Yoga helps provide an overall sense of mindfulness. While there is a big focus on flexibility, yoga is all about building that core strength. When you do gentle movements and hold them for a small period of time, you are working your entire body and it is great for your joints, circulation, and all over range of motion.
Promotes strength and flexibility
Have you noticed with age some things seem a little different? I know there are many things I could do as a child that my body just does not seem capable of doing these days. If you think about it since we are young adults, we spend the majority of our time sitting and neglecting our bodies. Yoga is a great way to work on getting that flexibility back.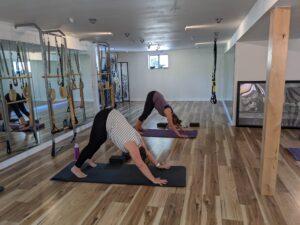 Come check out yoga classes in our garden-level studio.  Sign Up Here