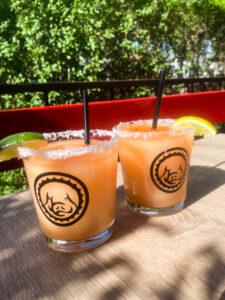 Oh hey, it is World Paloma Day! You might be thinking what is a Paloma. Well, Paloma means "dove" in Spanish but is more commonly known as a tequila-based cocktail. It is a mix of tequila, lime, and grapefruit soda. This drink is citrusy, refreshing, and perfect for a warm afternoon on the patio.
There are some great places in Olde Town that have delicious Paloma's. Cochino Taco has a frozen Paloma that is the perfect combination of citrus and sweet. They add a float of Aperol and it is delicious. After your next class, you should head over and try it for yourself.
If you are more into being your own bartender, here is a lighter version of the Paloma. This recipe has less sugar with no added sweetener. You will swap out the soda for fresh grapefruit juice and grapefruit soda water. Cheers!